``We have watched the amazing success stories of many hungarian female models in recent years. Their example must have contributed to international agencies showing more and more interest in our male models too. We`re introducing seven promising faces worth watching out for - they could reach great heights``
Misa / shirt by Burberry Prorsum

Misa was discovered in a bus stop by a scout, and three months later he found himself in New York. His most unusual job was a show held in a church that had been turned into a nightclub. Misa has appeared in Philipp Lim's first menswear show and participated in campaigns for brands like Frankie Morello, and Stone Island. After modeling he wants to be a trainer.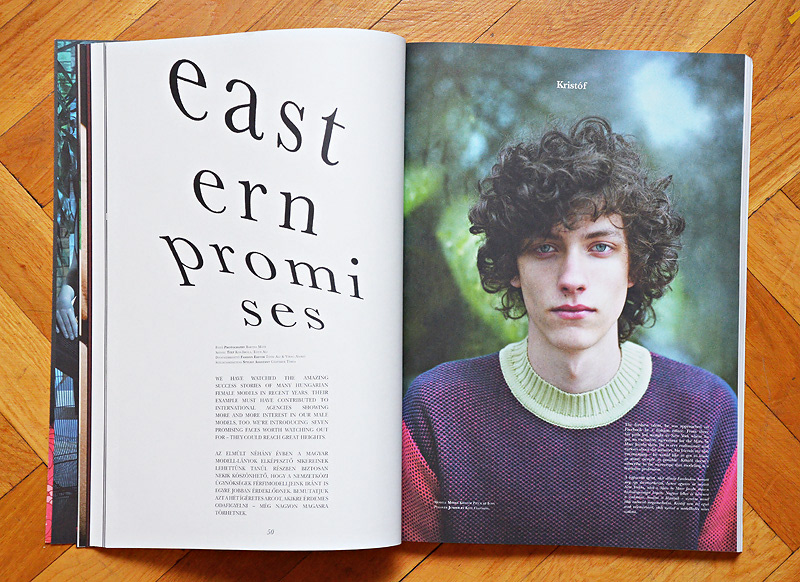 Eastern Promises / The Room 17

Photography: Máté Bartha
Text: Kiss Imola, Tóth Ali
Divatszerkesztő: Fashion Editor: Tóth Ali, Virág Anikó
Stylistasszisztens: Tímea Gáspárek


Ben / jumper by Kele
He was accompanying his model sister when the agency asked him to stick around. His debut at the Jil Sander menswear show at the Milan fashion week in January was followed by such famous shows as Moschino, Raf Simons, and Damir Doma. He used to think models were dumb, but his own modeling experiences have proved the exact opposite. He loves to travel, and hopes that he will soon land in New York.
Botond / jumper by Retrock
He was an exclusive at Marc by Marc Jacobs and Alexander McQueen, and he was worshipped at the shows of Lanvin, Christian Lacroix, and Neil Barrett. Photographers also have been discovering him for his distinct features, and one of his first shoots was made for V Man. He feels that while male models are quite laid-back, female models often create tension among themselves. He still hasn't got used to how difficult it is to build meaningful relationships in such a heretic industry.
Jackson / jumper by Gucci
The young Australian-Hungarian's carreer began with an Alexander McQueen show in Milan, and he has since appeared in campaigns for brands such as Paul Smith and Costume National. Jackson is very ambitious, and he is well aware that one needs plenty of patience and prevservance in this profession. He wants to keep working in fashion and he would also like to act.
Alfréd / jumper by Scotch and Soda
The most successful Hungarian male model of all times. He has been the face of D&G, his photos have appeared in Vouge Hommes Japan, and Hercules magazine, and he's a recurring model on the catwalks of Armani and Erto. Despite everything, he still feels fame hasn't changed him. He doesn't think male models are full of themselves. He used to be a professional football player, and later he wants to return to sport.
Kristóf / jumper by Kele
The freshest talent, he was approached on Facebook by a fashion editor. From there his path led straight to New York, where he got an exclusivity agreement for the Marc by Marc Jacobs show. He is very enthusiastic and curious about the industry, his friends are also encouraging - he would like to get to know as many people as possible. Kristóf doesn't subscribe to the stereotype that modeling is a feminine profession.
Márton / jumper by Louis Vuitton
He was doing capoeira by Lake Balaton, when he was discovered - shortly thereafter he debuted in Balenciaga's first ever menswear campaign. People around him have been even happier about his unexpected success than he himself. He loves to entertain people. summerwear photoshoots in the middle of winter are not exactly his favorite part of the job. After his modeling career he wants to learn the ins and outs of shotgun-making.