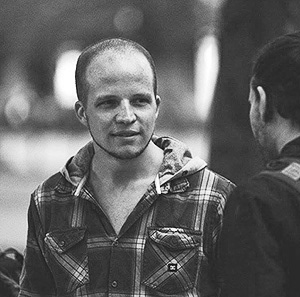 Máté BARTHA (1987)
based in Budapest, Hungary
barthamate@gmail.com
+36 30 525 63 27
Máté Bartha, born in 1987, is an artist based in Budapest who works in the fields of photography and
documentary film. He obtained his master's degrees at the Moholy-Nagy University of Arts and Design and at
the University of Theater and Film Arts, both in Budapest. After receiving the National Scholarship of Hungary
for photographers, he self-published his first book, entitled Common Nature (2014). With his most recent
project, KONTAKT, he received the Capa Grand Prize Fellowship (2017) and the Robert Capa Grand Prize
Hungary (2018).

Work
2015-2016 VS.hu, video director, cameraman, editor
2014-2015 ORIGO.hu, video director, cameraman, editor
2012-2014 Northfoto picture agency, content editor
Studies
2016-2018 Unversity of Drama and Film (SZFE) Budapest, directing documentaries MA
2006-2011 Moholy-Nagy University of Art and Design (MOME), Budapest, photography MA
Memberships
2013- Studio of Young Artists' Association (FKSE), Hungary
2007- Studio of Young Photographers, (FFS) Hungary
Awards, scholarships
2018 -
Capa Grand Prize
2018 - "Bajnok" / "Champion" - Special mention / Shorts / BIDF 2018, Hungary
2017 - Capa Photography Fellowship awardee, Capa Center, Hungary
2014 - Fieldwork in New York, FFS, Hungarian Initiatives Foundation
2014 - Participant of PLAT(T)FORM 2014, Winterthur, Switzerland
2013-2014 - Pécsi József Scholarship
2013 - Fotóporta portfolio review, 3rd place
2012 - Fotóporta portfolio review, special mention
2012 - Artist in resicence in Ulm, Germany, Visual Kontakt
Exhibitions
2018
- Thirtythree, Group exhibition, Robert Capa Contemporary Photography Center, Budapest
- Hello from the other side, Group Exhibition, Valyo kikötő / Capa kikötő
- City vs Nature, Group exhibition, D17 Gallery, Budapest

2016
- "Pécsi 25" Group exhibition, Capa Contemporary Photography Center 
- "Merging Realities" Szatyor Art Space, Budapest, Hungary
- "Swing", group exhibition, Platán Gallery, Budapest, Hungary
2015
- "Disappearing Rural Villages", multimedia exhibition, Telep Gallery, Off Biennale, Budapest, Hungary
- "Budapest Balaton", group exhibition, Hungarian Institute of Istambul, Turkey
2014
- "Home Away", Hungarians in New York, group exhibition, Capa Contemporary Photography Center, Budapest, Hungary
- "Kiváló a hangulat" group exhibition, Casati Art Corner, Budapest, Hungary
- "derkó.pécsi.2014" group exhibition, Kunsthalle, Budapest, Hungary
- "Enter/ing", group exhibition, FKSE Gallery, Budapest, Hungary
2013
- "Indíték Tématéka" group exhibition, Labor, Budapest, Hungary
2012
- "680 km", Kunstraum Visual Kontakt, Ulm, Germany
- "Relevant" group exhibition, Roham bár, Budapest, Hungary
2011
- "FormElles" group exhibition, Hungarian Institute of Paris, France
- "Keresetlen Csúf" group exhibition, University of Fine Arts, Budapest, Hungary
- "The I Country" group exhibition, Demo Gallery, Budapest
2009
- "Contemplate" Lumen Gallery, Budapest, Hungary
- Photobiennale of Dunaújváros, Hungary
- "Image Error", group exhibition, Artbázis, Budapest, Hungary
- "The Rain Before It Falls" group exhibition, Karton Gallery, Budapest
- "Metropolis" group exhibition, Nessim Gallery, Budapest